Republic of South Africa Travel Tips
Area: 1,221,037 km2
471,443 sq mi
Population: 51,770,560
Time Zone: SAST (UTC+2)
Country Code: SAST
Calling Code: +27
Internet code: .co.za
Official Languages: English, Afrikaans, isiNdebele, isiXhosa, isiZulu, Sesotho, Sa Leboa, Sesotho, Setswana, siSwati, Tshivenda, Xitsonga
Political Structure: Democracy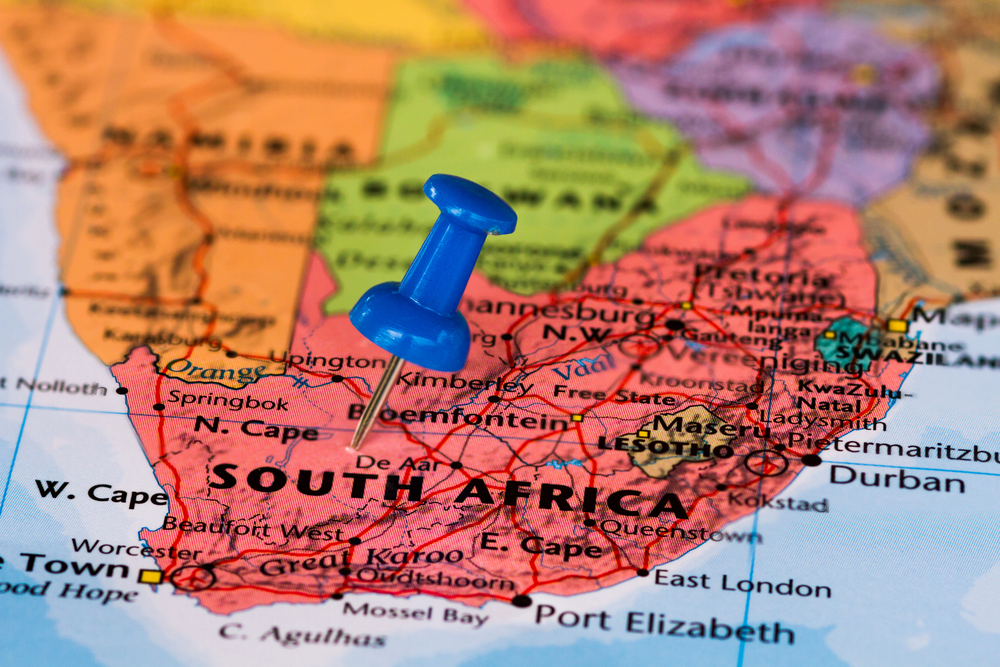 GEOGRAPHY
Republic of South Africa is located at the southern tip of Africa. The country is divided into nine provinces. To the north it has borders with Namibia, Botswana and Zimbabwe; to the east -Mozambique and Swaziland; while Lesotho is an enclave surrounded by South African territory. South Africa is the 25th largest country in the world by area and the 24th most populous country with over 51 million people.
CAPE TOWN
Cape Town is the legislative capital of South Africa and is the provincial capital for its region. It is known as the Mother City in South Africa. It is also one of the most iconic cities in the world. Cape Town is well known as one of Africa's most popular tourist destinations and it is famous for its harbour, biodiversity and various landmarks. The city is located within the Cape Floristic Region of South Africa and as a result, ecotourism is popular in the city as well. In June 2010, Cape Town was also one of several South African cities to host World Cup games.
Cape Town is divided into its main City Bowl- an area surrounded by Signal Hill, Lion's Head, Table Mountain and Devil's Peak- as well as its northern and southern suburbs and the Atlantic Seaboard and the South Peninsula. The City Bowl includes Cape Town's main business district and its world famous harbour. In addition, Cape Town has a region called Cape Flats. This area is a flat, low-lying area to the southeast of the city centre. The city centre of Cape Town is located on the Cape Peninsula. The famous Table Mountain forms the backdrop of the city and rises to an elevation of 3,300 feet (1,000 meters). The rest of the city is situated on the Cape Peninsula between the various peaks jutting into the Atlantic Ocean.
CLIMATE
The summer months are from December to February. Days are usually hot, but the humidity is low, so it is not uncomfortable. The winter months of June to August tend to be rather wet, which does not mean rain every day although it can rain for two weeks straight on occasion. It can also get very cold at night, with temperatures as low as 2 or 3°C. It will become warmer during the day, with temperatures between 9-15°C.
VISA
For detailed information please visit: http://www.dha.gov.za/
Requirements for visitor's visas differ from country to country:
Exempt and intend to stay 90 days or less
If you hold a national passport (diplomatic, official or ordinary) or a travel document for the any one of the following listed countries / territories / international organisations, you will not need to apply for a visa before arriving at a South African port of entry if you intend to stay in the country for 90 days or less:
African Union Laissez Passer Liechtenstein
Andorra Luxemburg
Argentina Malta
Australia Monaco
Austria Netherlands
Belgium New Zealand
Botswana Norway
Brazil Paraguay
Canada Portugal
Chile San Marino
Czech Republic Singapore
Denmark Spain
Ecuador St Vincent & the Grenadines
Finland Sweden
France Switzerland
Germany Tanzania (90 days per year from 1 November 2010)
Greece United Kingdom of Great Britain
Iceland Northern Ireland
Ireland British Islands of Bailiwick, Guernsey, Jersey, Isle of Man and Virgin Islands
Israel British Overseas Territories namely: Anguilla, Bermuda,
British Antarctic Territory, British Indian Ocean Territory, British
Virgin Islands, Cayman Islands, Falkland Islands, Gibraltar,
Montserrat, St Helena and Dependencies (Ascension Island, Gough
Island and Tristan da Cuna), Pitcairn, Henderson, Ducie and Oeno
Islands, the Sovereign Base Areas of Cyprus, South Georgia and
South Sandwich Islands and the Turks and Caicos Island
Italy Uruguay
Jamaica Venezuela
Japan United States of America
Zimbabwe
Exempt and intend to stay for 30 days or less
If you hold a national passport (diplomatic, official or ordinary) or a travel document for the any one of the following listed countries / territories / international organizations, you will not need to apply for a visa before arriving at a South African port of entry if you intend to stay for a period of 30 days or less, or are in transit:
Antigua and Barbuda
 Barbados
Belize
Benin
Bolivia
Cape Verde
Costa Rica
Cyprus
Gabon
Guyana
Hong Kong (only with regard to holders of Hong Kong British National Overseas passports and Hong Kong Special Administrative Region passports),
Hungary
Jordan
Lesotho
Macau (only with regard to holders of Macau Special Administrative Region passports (MSAR))
Malaysia
Malawi
Maldives
Mauritius
Mozambique
Namibia
Peru
Poland
Seychelles
Slovak Republic
South Korea (Republic)
Swaziland
Thailand
Turkey
Zambia
And the requirements are subject to change. As each application is treated as an individual case and you should make enquiries with your nearest South African mission or consulate abroad or any office of the Department of Home Affairs to see whether or not you are required to apply for a visa. Remember that there is a fee charged for issuing a visa, and you should check the cost with the office as well as this is updated annually. The fee is payable in different currencies in different countries. Visas are not issued at South African ports of entry, and airline officials are obliged to insist on visas before allowing passengers to board. If you arrive without a visa, immigration officials are obliged to put you onto a flight back to your home country.
BY PLANE
International Terminal of CPT
Cape Town International Airport is the second largest airport in South Africa (the largest being the OR Tambo International Airport in Johannesburg). There are multiple flights daily to Johannesburg, Durban and all other major South African cities, as well as the Namibian cities of Windhoek, Swakopmund and Walvis Bay and other destinations, including Gaborone, Maun and Nairobi. The most used airlines for international flights from Europe, the US and Asia includes South African Airways, Lufthansa, British Airways, KLM, Singapore Airlines, Malaysian and Emirates.
Further international flights arrive from Buenos Aires, Dubai, Doha, Amsterdam, Paris, Frankfurt, Kuala Lumpur, London, and Singapore. Formerly, nonstop service to/from the United States existed, but now, you must use OR Tambo in Johannesburg as a gateway city from/to New York City or Washington DC. In the summer, (October-March) several charter airlines operate direct flights from all over Europe to Cape Town. Spare seats are sold with substantial discounts but during Christmas time and New Year prices rises significantly.
BY CAR
The vast majority of roads in and around Cape Town are in a very good condition, making travelling by car an easy. However, please be aware of hijackers at night or at traffic lights. Please ask your hotel staff or anyone familiar with the area about where it is safe and where it is not. Be aware of pedestrians on highways and National Roads.
Several major highways start in Cape Town:
N1 runs north-east, passing Paarl, Bloemfontein and Johannesburg on its way from Cape Town to Harare in Zimbabwe. Also a good choice if you want to go to Kimberley and the northern Drakensberg.
N2 runs along the East Coast towards the Garden Route, George and Port Elizabeth in the Eastern Cape, through the Wild Coast up to Durban and Swaziland. Note that the N2 is a toll road through the Tsitsikamma National Park.
N7 goes north along the West Coast to the Northern Cape city of Springbok and to Namibia. Also follow it to go to Upington and the Kgalagadi Transfrontier Park.
Hiring a car in South Africa is not as expensive as in Europe or many other countries. Petrol is also cheap compared to Europe but a bit more expensive than in the United States. The locals will tell you that the Cape Town drivers are the most courteous drivers in South Africa (except the mini bus taxi drivers who are unpredictable) and generally drive slower in comparison with other cities.
LOCAL TRANSPORT
Car Rental companies in Cape Town
Drive South Africa Tel: 021 423 6957
Reeds Car Rental Tel: 021 443 5250
Wise Wheels Tel: 021 551 9515
Value Car Hire Tel: 021 386 7699
CapeXplore Tel: 021 997 4544
CABS
The Cab Company
Rates: http://www.thecabcompany.co.za/rates
Office & After Hours – Call (+27) 087 802 6776 – info@thecabcompany.co.za
By metered taxi
Metered taxis are controlled by the city council and can be considered safe and reliable. The price per kilometre is around R8-R10 and can often be read at the taxis side door. You can also set a fixed price with the driver, especially when going to a faraway destination such as the airport which is about 21 km from city centre and the fare can be bargained down to R180.
Please note that there is only one official taxi company at the airport. But you should ask your hotel to pick you up, as pick up service are provided by nearly all hotels, guest houses and so on.
• Sainte Marie Taxis ((English/French Speaking)
Cape Town Central
+27 (0)84 745-0312
sainte.marie.tours@gmail.com
• Christos' Car Service (English/Dutch Speaking)
+27 (0)83 877-2334
Small, family run car service based in Cape Town's city centre. Very popular with tourists as they are known as an efficient and honest company. Safe for women travelling alone.
• www.taxirank.co.za (Local online metered taxi booking service) A free website that allows you to get comparative quotes and order taxis from the most commonly used and trusted metered taxi companies in Cape Town
BY SEA
Most of the larger cruise lines, such as Princess Cruises offer Cape Town as one of their destinations, but you can also try something different:
RMS St Helena, This passenger/cargo ship is the last working Royal Mail Ship and stops at Cape Town on its way to St Helena.